This is a follow-up to Manu's article on the same subject. I'll cover my experience and some desktop visual results of applying this method.
Some people love emails. Some people hate them. Most of us experience both emotions. Yet there's no denying—as Manu points out—emails are still one of the most useful tools to communicate with people. What I think can make a huge difference, however, is the environment in which we read and write our emails.
For the past couple of years I had been using a wonderful email client called Tempo until the company sadly decided to call it quits in late 2021. Made only for Gmail accounts, Tempo is a Mac app that offers a beautifully minimal and quiet email interface. It encourages its users to slow down and focus by delivering new emails in scheduled batches throughout the day as well as some well-considered features to keep things organised. I won't bother running through a full review of the app, but suffice it to say, I enjoyed it a lot and I was disappointed to hear the end of its development. That said, you can still download it as a standalone app without any future updates. It still works incredibly well.
Today though, I need something that accommodates more than just Gmail accounts. So I made the decision to revert back to Mac Mail, but with an extremely minimalist approach. If you're someone who goes through life with 1k+ unread emails and it doesn't faze you, then this won't be for you and you're probably beyond help, but if you are someone who enjoys keeping your emails organised and inbox underwhelming, then you might just appreciate this setup.
The inbox
Obviously I don't often hit inbox = 0, but it never gets out of control. If an email is sitting there, there is something I need to action. You'll notice I have also pared back the toolbar and what information is previewed.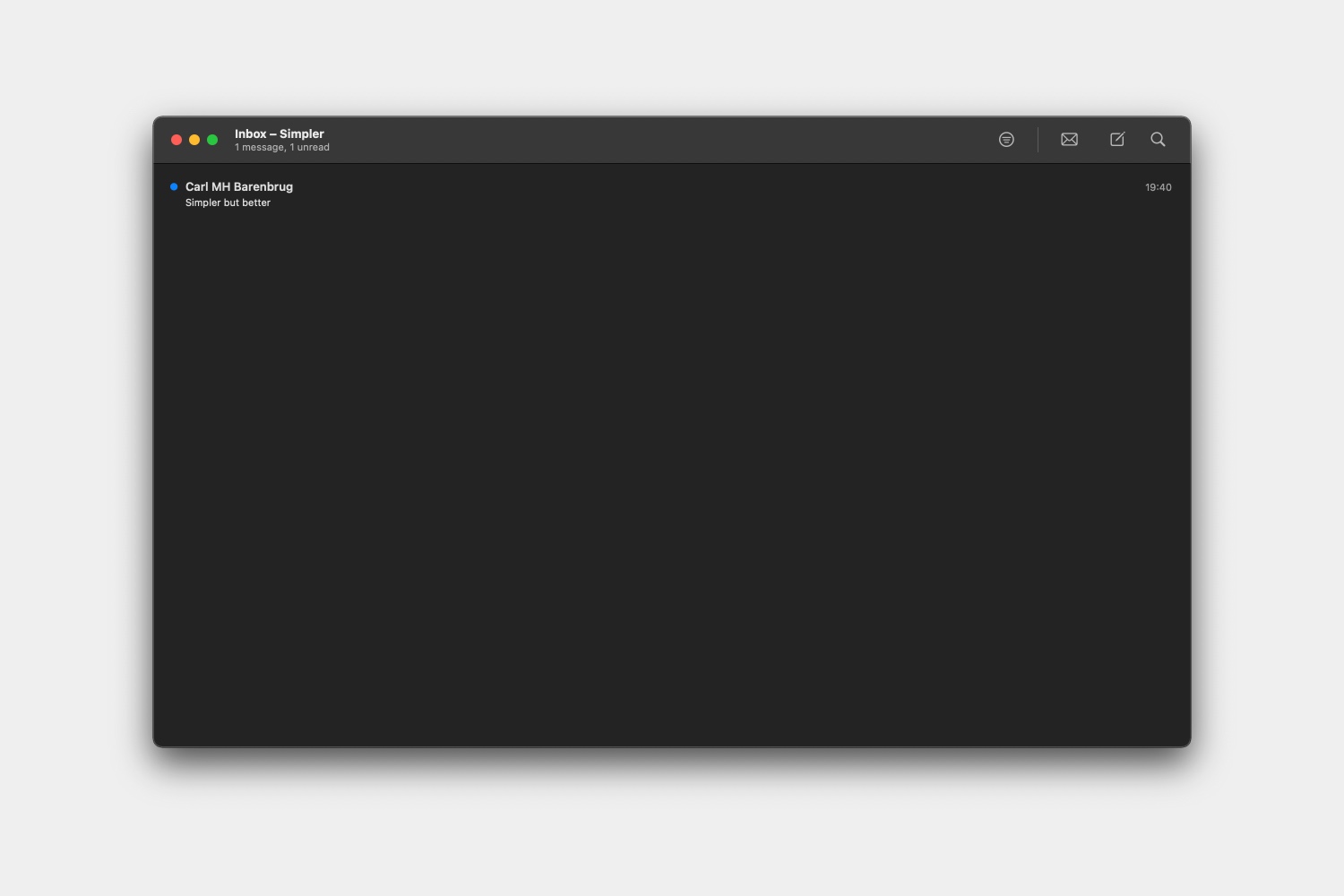 The emails
Here, I also pared back the toolbar to only include functions I need. I did consider using text only tools rather than icons, which I might still switch to at some point, but felt the icons used up less space.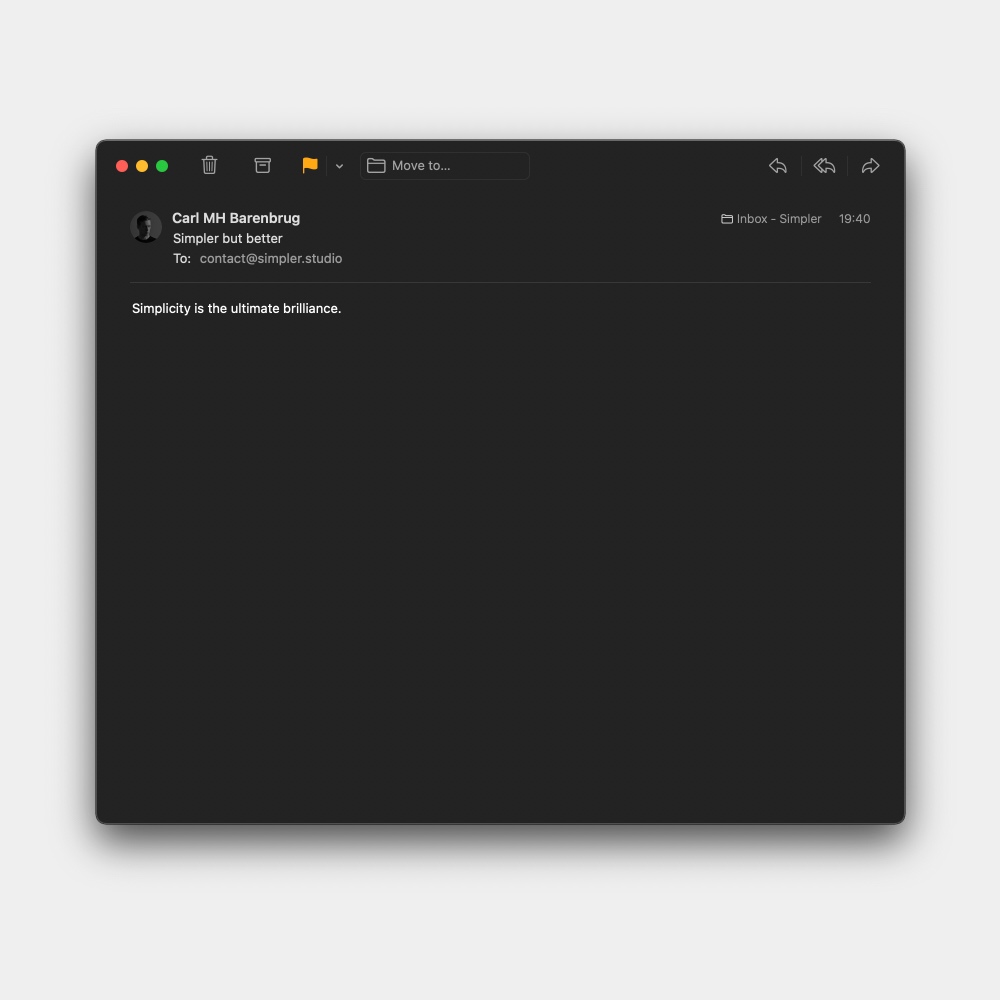 The writing
I've opted to compose my emails in plain text. Although I loved writing in markdown (in Tempo), there's something so clean and brutalist about plain text. Sure, it makes text links a little scrappy, but fuck it, I like it.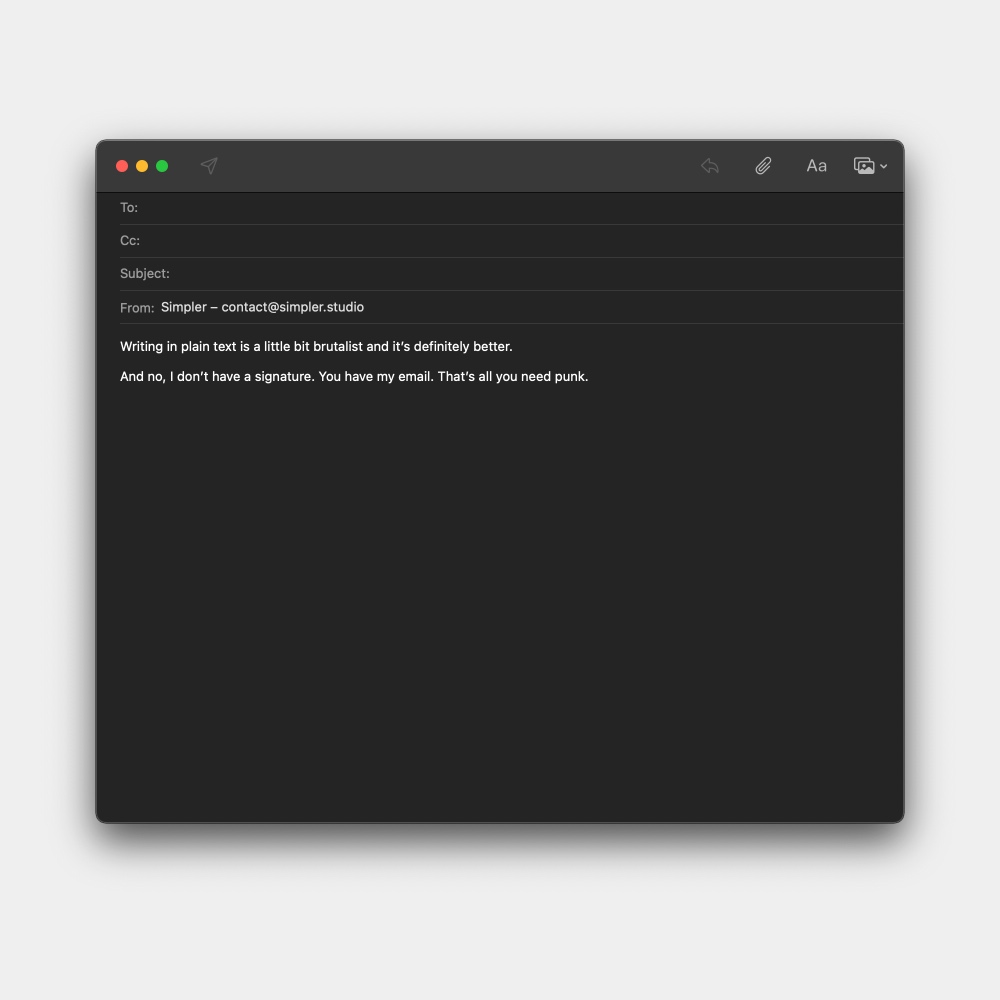 And there we have it: a combination of Moreale minimalism and Barenbrug brutalism. That's not really a thing obviously, but I like alliteration. Anyway, go follow Manu's setup guide and and drop me a note if you have any questions or want to share your own setup.